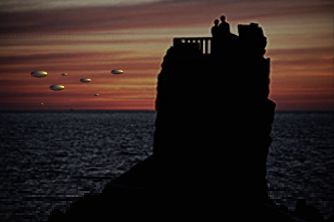 DEN GYLLNE RÖRELSEN
(DEL 1)
---
Gyllne Rörelsen som GIF-film! Se och lär!
---
GYLLNE RÖRELSEN har aldrig förut gjorts tillgänglig för jordens folk i denna omfattning. Missa inte chansen att lära dig del 1 av denna kraftfulla och effektiva form av healing!
Den GYLLNE RÖRELSEN är universums egen energirörelse. Den är en alldeles egen energi och bör brukas med ödmjukhet. Genom att genomföra vissa bestämda rörelser, samlar man energin från universum i sina händer och kan använda den till healing i den form man själv väljer.

Alla kan lära sig GYLLNE RÖRELSEN! Man behöver inte ha uppnått nån slags "andlig mognad" eller liknande. Denna kraft är till för att brukas av alla männsikor för jordens bästa. Kraften leds inte ned genom chackrasystemet och ut i händerna, utan samlas direkt upp i händerna.
GYLLNE RÖRELSEN har obegränsat med användningsområden: du kan lägga in den i någon som behöver healing, du kan göra en boll av den och lägga i din mat, du kan hela människor, växter och djur och ge till dig själv. Denna kraft är alltid tillgänglig och evig. Använd den med rent hjärta och med måtta, då den är mycket stark. Inget kan dock gå fel när du använder denna kraft.
Energin kan inte användas i negativa syften.
Om du har något fysiskt handikapp så spelar detta ingen roll: du utgår från din fysiska förmåga. Effekten påverkas inte om du inte förmår utföra vissa rörelser alldeles perfekt. Känslan räknas, inte fysiska förutsättningar. Du kan sitta eller ligga ned när du gör rörelsen.
DEN GYLLNE RÖRELSEN kan lika gärnas visualiseras som utföras fysiskt. Studera instruktionerna noggrant för att kunna få bästa möjliga visualisering eller låt en person som lärt sig rörelsen visa den för dig.
Det existerar en del till av Gyllne Rörelsen, men den lärs bara ut privat genom kurser i Vit Tid Healing.
Detta är utomjordisk kunskap.
UTFÖR DEN GYLLNE RÖRELSEN MED ÖDMJUKHET I EN ENDA RÖRELSE. LÅNGSAMT ELLER SNABBT SPELAR INGEN ROLL. MEN ANVÄND HJÄRTAT!

BÖRJA LEKTIONEN.
THE GOLDEN MOVEMENT
(PART 1)
---
The Golden Movement as a GIF-movie!
Watch and learn!
---

THE GOLDEN MOVEMENT is hereby made available to all the people on Earth for the first time. Dont miss the chance to learn this extremely powerful and effective form of energy-gathering!
THE GOLDEN MOVEMENT is the Universe´s own energy. It is a very special form of energy and should be used with a pure intent. THE GOLDEN MOVEMENT can be used in a variety of ways. You can use it to heal people, animals, plants, food - use your own imagination! This universal force is always there, ready to be gathered. Use it with a pure heart and the best of intentions.
By the use of special movements you gather energy from the Universe and as a result, your hands will be full with energy, ready to be used in your healingwork! However, nothing can go wrong when you are using this energy - just use it with some moderation since it is strong!
Anyone can learn and benefit from THE GOLDEN MOVEMENT. You don´t have to have reached some special level of "spiritual insight" or something. The movement is for everyone. Also, the power is not channeled through the chackras and then out to the hands. It is gathered directly in the hands.
If you happen to have a physical handicap, then it does not matter. Everyone performs THE GOLDEN MOVEMENT in accordance to his or her physical abilities. The effect does not in any way decrease if some movements are not performed "perfectly". It is the feeling and heart that counts. You can sit or lay down when you perform the movement.
THE GOLDEN MOVEMENT can just as well be visualized. You do not have to perform it physically. Just follow the instructions carefully or watch a person who has learnt the movement. Then train on your visualization.
The energy can not be used for negative purposes.
There also exists a second part, but that can only be learnt through private lessons.
This is extraterrestrial knowledge.
THE GOLDEN MOVEMENT IS TO BE PERFORMED WITH GRACE AND SERENITY IN ONE CONTINOUS FLOW. DO IT SLOW OR DO IT FAST. BUT USE YOUR HEART!